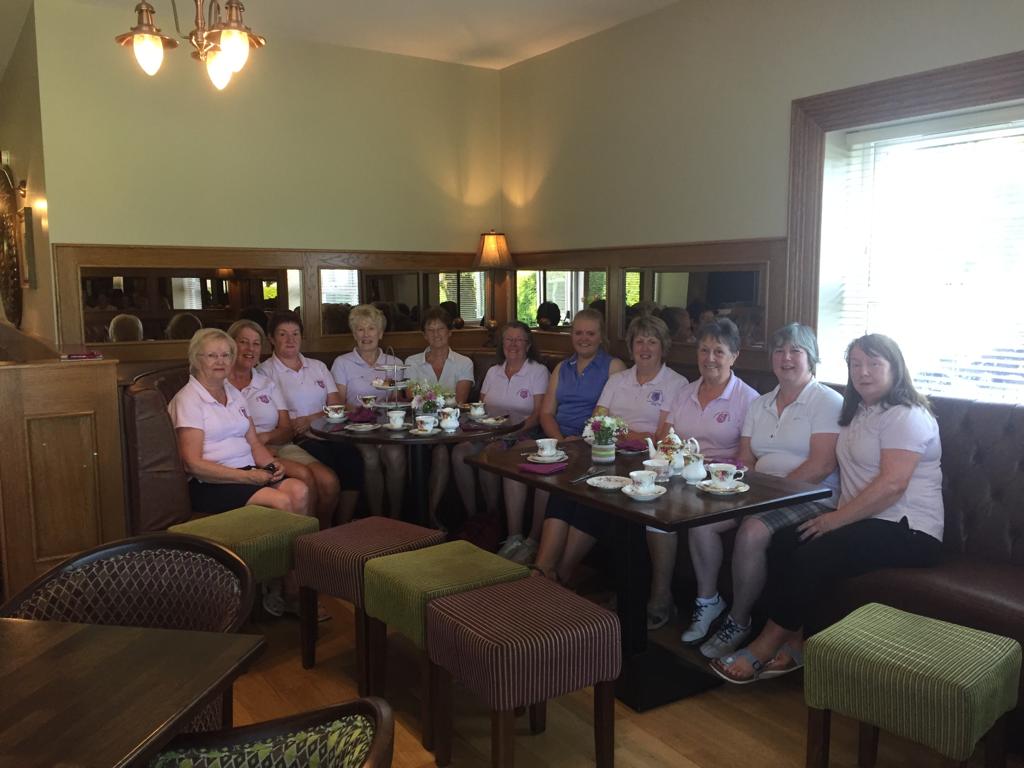 A Scorcher for Lady Captain's Open Day 2018
The sun shone brightly, the course was in superb order and the conditions were right for a fabulous day of golf at Lady Captain Gillian's Open Day 2018. Visiting Ladies from Aughnacloy, Blacklion, Enniskillen, Fintona & Lurgan Golf Clubs joined our own Lady Members for an 18 hole Stableford Competition – 53 Lady Golfers in total this year!
Rusks Restaurant provided an array of delicious treats – tea/coffee, scones, tray bakes – all served 'afternoon tea' style before the groupings set out in fierce sunshine. It was certainly the 'early birds' who set the bar high this year (having set off at 8.00am) Lady Vice Captain Pat Carville, Lurgan Golf Club, returned a score of 40pts to win 1st Lady Visitor & our own Club Lady, Mary Fee, securing 'nearest the pin'.
However, scoring was close with 2nd place Lady Visitor Deirdre McSorley, Enniskillen Golf Club (another early tee time) returning a score of 37pts and her club-mate at Enniskillen, Josie Boyle, hitting the 'longest drive'.
Not to be outdone our own C.V. Ladies matched the visitors with Henrietta Willis winning 1st Club Lady, and showing she was on fine form, with 40pts – just pipping Linda Armstrong into 2nd place on 39pts. Our Club Ladies Gross Prize was won by Betty Monaghan and 36+ Handicap Prize won by Florence Brunt.
C.V. Lady Vice Captain Margaret Osborne (to her great shock and delight) won the Club Front 9 prize. Equally shocked and delighted was Sandra Irvine, one of our new Lady Members, who won the Club Back 9 (this was Sandra's first year playing on Lady Captain's Open Day).
Prize Giving took place in the upstairs function room at Rusks where the Club Ladies had worked their magic to decorate the room beautifully – the Prize table and floral arrangements complimented the feel of the day. Guests, Club Ladies and Visitors were served a range of delicious dishes before Lady Captain Gillian took to the floor to thank the many people who had helped to make her day such a success (ladies and gents), to thank everyone for their cards, gifts and donations to her chosen charity MND NI and to make the presentation of prizes.
Lady Vice Captain Margaret had a surprise waiting in the wings and presented Lady Captain Gillian with a beautiful Callaway Lady Golfer shoe bag and tote set as a thank you from all the C.V. Lady Members (no more IKEA box!!).
The warm balmy evening was perfect for sitting outdoors so the ladies retired to the picnic tables to round off a fantastic day of golf, friendship and fun.
[ngg_images source="galleries" container_ids="7″ display_type="photocrati-nextgen_basic_thumbnails" override_thumbnail_settings="1″ thumbnail_width="300″ thumbnail_height="200″ thumbnail_crop="1″ images_per_page="40″ number_of_columns="0″ ajax_pagination="0″ show_all_in_lightbox="0″ use_imagebrowser_effect="0″ show_slideshow_link="1″ slideshow_link_text="[Show slideshow]" order_by="sortorder" order_direction="ASC" returns="included" maximum_entity_count="500″]