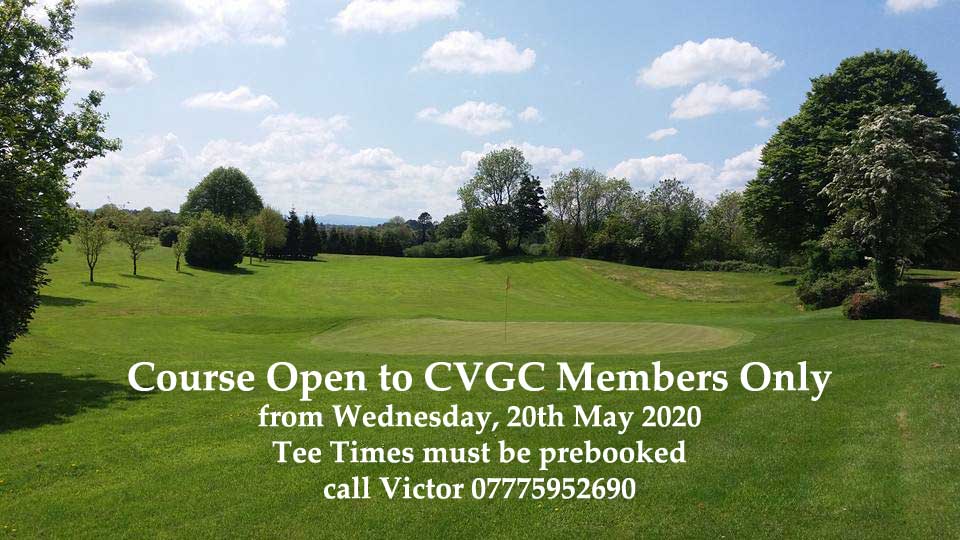 Golf Course Re-Opens
Dear Members
Clogher Valley Golf course will reopen for play on Wednesday 20th May 2020.
Only members who have paid their annual subscription or have made arrangements to pay are eligible to play.
Non paid members are not eligible to play. This is a GUI and government directive and we must comply.
Tee times must be booked, in advance, by contacting Victor on mobile number
07775952690
, maximum of 3 players per group.
Under no circumstances is play permitted without being pre-booked.
Bookings will only be taken for up to 7 days ahead.
Bunkers are in play, but as the rakes have been removed, after playing your shot, please smooth the sand with your foot or a golf club.
In the event of a lost ball you cannot return to the tee. Take a drop in the approximate location under 2 shot penalty.
Initially, only 9 holes will be playable on each tee time to facilitate the restrictions which have been put in place.
This will be reviewed next week when we can determine the number of members who want to play.
Unfortunately we are unable to play competitions for at least 3 weeks so casual golf only is permitted during this period.
Members must adhere to all the rules which have been put in place and these can be viewed, in full, on the Clogher Valley Golf Club website.
Looking forward to seeing members out on the golf course again.
Captain Eugene Rooney