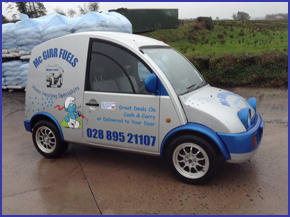 McGirr Fuels
Fuel suppliers in South Tyrone
McGirr Fuels is a specialist supplier of home heating oil and agricultural fuels, as well as solid fuels and coal.
The McGirr family has been delivering coal in the Fermanagh and South Tyrone area for the last 40 years, and is now in its second generation of management.
In 2001, due to customer requirements and the rising popularity of oil fired central heating, we branched into the delivery of home heating oil and agricultural fuel. Since then we have continued to meet customer demands every day, and strive to do so into the future.
We pride ourselves on our prompt, reliable, friendly service.
We also have a cash and carry service at our yard, where you can buy heating oil and red diesel from the pump, all types of coal and smokeless fuels in handy 25kg bags, logs, kindling and wood pellets (10kg bags).
McGirr Fuels
5 Foglish Rd
Fivemiletown
County Tyrone
BT75 0SH
Tel: +44 (0) 28 8952 1107
Website: