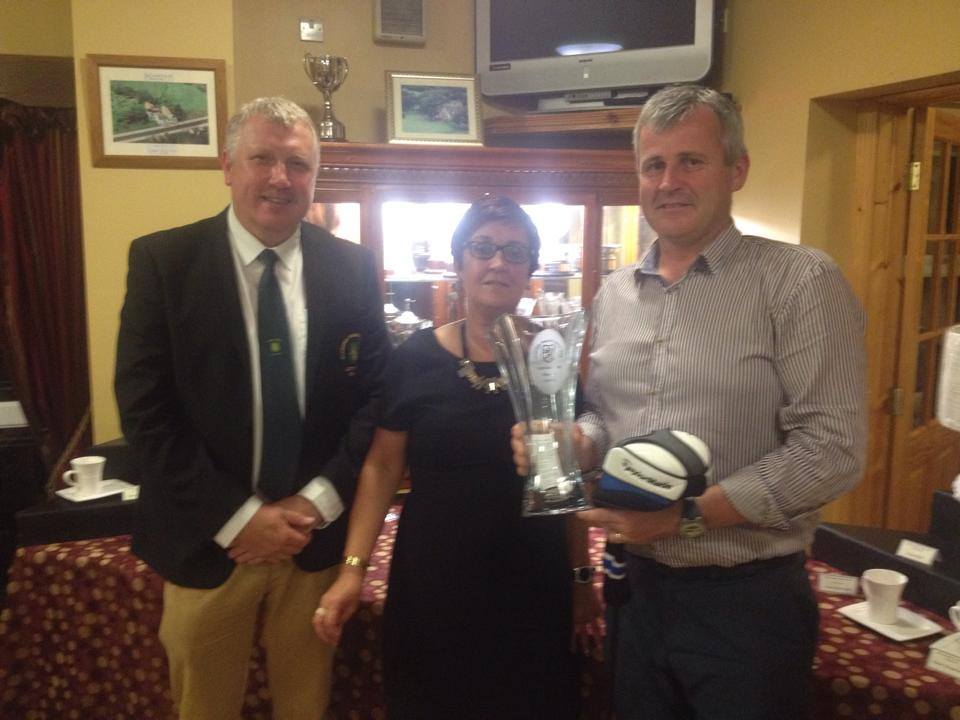 ANDY LITTLE WINS BILLY'S CAPTAINS DAY AT "AUGUSTA"
Captain Billy Reynolds was delighted that almost 90 golfers played in his strokeplay Captains Day at an immaculate Clogher Valley Golf Club (affectionately known locally as "Augusta") which took place on Fri 18th and Sat 19th July. Some pins were in positions never seen before in "Augusta" and this helped produce one of the most challenging and entertaining Captains Days there for many years.
An early leader in the clubhouse on Friday was our "Conway Cups Mr. Consistency" Stephen McClelland with a nett 62 including a birdie on the 4th and 6 pars. But it was the experienced wylie old fox Robert Robinson who also carded a creditable nett 62 including 10 pars who was the overnight leader on countback.
Day two on Saturday – Enter the Gladiators!!
A packed "Augusta" from early morning saw everyone jockeying for position as they sought to out-think (and out-drink!!) each other in plotting their way around our little gem of a course in the Clogher Valley. Pleasantries were exchanged and Captain Billy set the happy and relaxed tone for the day with his amusing "roll call" in the clubhouse and Peter Alyss and Ken "on the course" Brown duly obliged by providing commentary at certain holes on the course.
As each fourball disappeared down the 1st fairway, sadly for some, so did their chances of wearing the "Green Jacket", as "Normans Rough" proved to be "Amen Corner" with several golfers kneeling, praying they could find their ball!!
A serious contender was 10 handicapper Stuart Burke who carded a fantastic 5 over par and also nett 62 including 2 birdies and 11 pars, but amazingly he wasn't to feature in any of the prizes, not even gross!! Our very own Rory McElroy (note different spelling!!) from Augher was unable to make a challenge, and as players cooled down at the refreshment tent at half way, it became obvious it would take a great score to emerge the victor!
With some serious contenders still to finish, Garnett Hackett (or "Gariff 'Ackett" as our President calls him!!) "stitched his flag to the mast" to become the new leader with a great score of nett 61, and was left to dwell on a double bogey at the last and what might have been! Young 12 handicapper Jack Montgomery came oh so close and even a level par back 9 wasn't enough to repair the damage and he finished scratching his head also with a nett 62.
As the last of the fourballs crossed "Magnolia Lane" (Morrows Lane) for the last time, it was in-form 20 handicapper Andy Little who showed some "class" to emerge from the pack. Andy was favoured with Gods grace as he recovered from carding a 9 on the par 4 7th and showed a lot of faith as he parred the 8th and birdied the 9th and finished carding a brilliant 7 under par nett 60 to win his first "Major" and lift Captain Billy's 1st prize!!Dessie "Last of the Summer Wine" McCormick won Senior prize, Davy (born again golfer) Phair won the non-handicapper prize 33pts, Castle Hume President Hugh Johnston won visitors prize 41pts, Linda Armstrong remains the best golfer in the Armstrong house by winning Ladies 1st prize 39pts, Malachy Graham (who strokes the ball better than his paintbrush) won Past Captains prize nett 68. Roger (my ole buddy) Howe proved why his handicap has plummeted to 7 by winning gross with a 4 over 71. Kevin McGarry won High Handicap prize with nett 63, Eamon Rasdale and Joe Davis won Front9 and Back9 respectively, Aughnacloy President Everett Clarke won Longest Drive and Captain Billy's son, Jack Reynolds, won the tricky Nearest the Pin. Captain Billy was delighted his big brother Gordon was able to make it an international occasion by flying over from Canada for the event.
An evening of great food, great company and great craic ensued and Captain Billy made sure that the relaxed and happy atmosphere continued with his witty and entertaining speech which at times had a crammed clubhouse in fits of laughter!! Captain Billy thanked everyone who had contributed to his Captains Day and made special reference to his and Lady Captain Carmel's chosen charity Cancer Connect N.I. for their respective Captains Days. Also particular credit was given to Victor Collum, our "meet and greet" caretaker, and a special thanks to Greenkeeper Raymond Farrell and wife Violet for having "Augusta" in absolute pristine condition, proving that patience and perseverance are necessary requirements for the job! All prizes were courteously presented to all the winners by Captain Billy's 1st lady Rita, and the craic and laughter continued into the small hours on what was a memorable day and night!! Captain Billy was reminded on numerous occasions that he forgot to mention his regular fourball of his V.C. Lefty Sean "Mickelson" McCaughey, Joe "Tom Watson trousers" Davis, and "the BIG EASY himself Barry "Ernie Els" Byrne…….. "If you had have been amongst the prizes I wouldn't have forgotten you lads…..NOW THEN!!!"