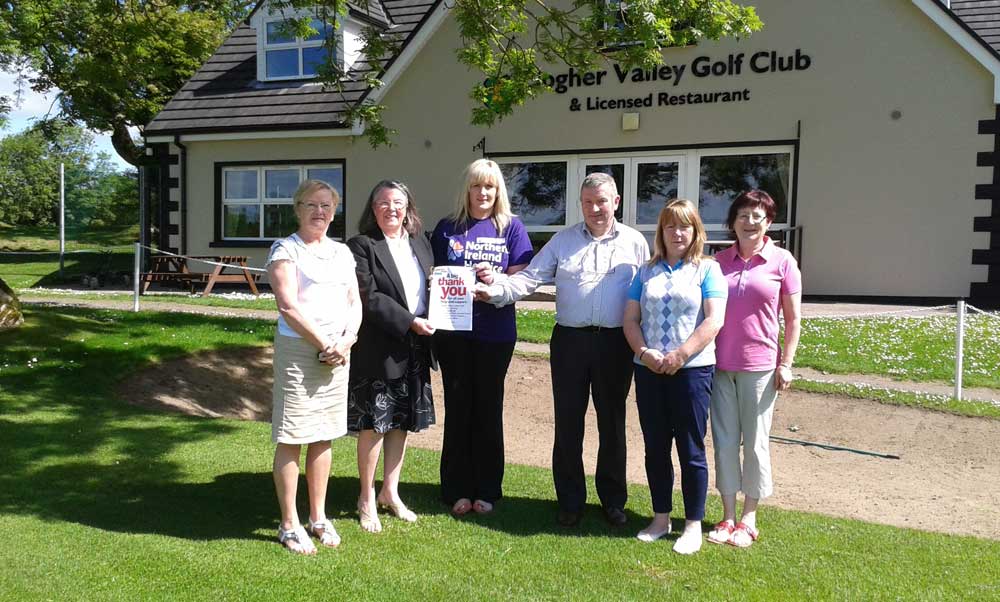 Lady Captain's Open Day | Donation to Palliative Care
During her recent Lady Captain's Open Day, our Lady Captain Florence Brunt asked that Members and visiting Lady Golfers should, if desired, make a donation to 'Palliative Care' in lieu of gifts.  She was aided in her fundraising efforts by the generous sponsorship of Gerry McNamee of CarZone Irvinestown, who once again provided a Nissan Micra car for a 'hole in one' on the 3rd hole during the Open Day. Entry to this part of the day's competition incurred an additional £5 entry fee which was added to the amount raised.
Today Lady Captain Florence presented a cheque for £500 to Heather Gott, Palliative Care. Our thanks to all who took part in our Open Day Competition or sent donations, for their generosity in raising so much for such a worthy cause.
Included in the photograph are (from left to right) Lady Vice Captain, Barbara Kingston | Lady Captain, Florence Brunt | Heather Gott, Palliative Care | Gerry McNamee, CarZone Irvinestown | Betty Monaghan, Club Winner Lady Captain's Open Day | Ladies' Secretary, Carmel Rooney
[button link="http://cloghervalleygc.co.uk/lady-captain-florences-open-day-17th-june-2015/" color="green" size="normal" title="View Images from our Lady Captain's Open Day" target="_self" rel="nofollow"] Results & images from our Lady Captain's Open Day [/button]