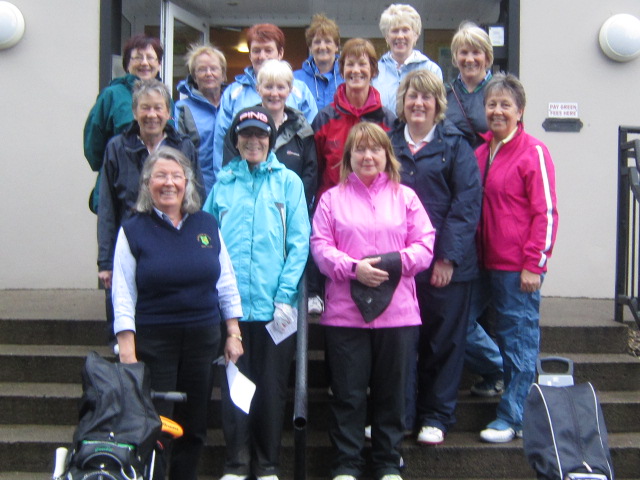 Lady Captain Florence's Open Day – 17th June 2015
Our annual Lady Captain's Open Day was held on Wedneday, 17th June 2015. Lady Captain Florence welcomed the Lady Members to the Clubhouse in the morning where the 2 ball pairings were drawn. A damp start didn't dampen the Ladies' enthusiasm with tee-off getting underway at 9.15am.
The big prize to aim for was a 'hole in one' on the 3rd hole (know as the 'Dunt'), to win a Nissan Micra Car kindly sponsored this year again by Gerry MacNamee of CarZoneNI, Irvinestown. Unfortunately it was not to be and the car was still available after all the CVGC ladies had played through. The entry fee for this part of the day's competition along with donations in lieu of gifts, is being donated to the Lady Captain's chosen charity, 'Palliative Care'.
Back at the Clubhouse the Lady Members were treated to tea, coffee, scones, fresh fruit and some home baked goodies. This was timed to coincide with the arrival of visiting Lady Golfers from nearby Clubs. Lady Florence welcomed the visitors and arranged for a shotgun start just after 2.00pm. By this time the drizzle of the morning had passed over to be replaced with dry but blustery conditions.
Lady Captain Florence had extended an invitation to the gentlemen members of Clogher Valley GC to play her competition over the previous weekend. Club Captain Sean, President Michael and several of the gents were on hand to represent the players with Captain Sean having presented Lady Capt Florence with a beautiful bouquet of fresh flowers earlier in the day.
The winners and prizes were announced in the Clubhouse after visitors and members were served a finger buffet of sausages, sausage rolls, sandwiches, etc. There was a great atmosphere with everyone chatting, catching up with ladies from other Clubs and waiting to see what the winning scores would be. Unfortunately none of our visiting Lady Golfers managed a 'hole in one' either – we will all have to get practising!
Gents Winners:
1st Prize: Mervyn McElwaine (43pts)
2nd Prize: Peter McGirr (42pts)
Nearest the Pin: Capt Sean McCaughey
Longest Drive: Roger Howe
Senior Member: Victor Collum
Visitors Prizes:
1st Prize: Susan Dorrian (37pts), Fintona Golf Club
2nd Prize: Sandra McElroy (34pts), Enniskillen Golf Club
Front Nine: Bridie McCaffrey (19pts), Castlehume Golf Club
Best Gross: Dympna Slowey
Lady Member Winners:
1st Prize: Betty Monaghan (33pts)
2nd Prize: Ena Browne (33pts)
3rd Prize: Linda Armstrong (32pts)
36 Handicap Prize: Bernie Mohan (30pts)
Back Nine: Mary Fee (17pts)
Longest Drive: Ena Browne
Nearest the Pin: Barbara Kingston
Lady Captain Florence brought the evening to a close by thanking everyone who had helped to make the day such a success;
Raymond & Violet for the great condition of the course,
Captain Sean, Past Captain Billy, Norman Kerr & Robert Robertson for officiating at the 3rd hole,
Victor for helping throughout the day,
Gerry McNamee for his sponsorship of the Nissan Car,
Ladies Secretary Carmel for sending out invitations and posters,
Linda and staff for the delicious food,
Mary & Jenny for marking the cards
and all the Members of Clogher Valley Golf Club, ladies and gents, for their support throughout the year.