In Form Billy 'Horschel' Reynolds Wins Castle Hume Open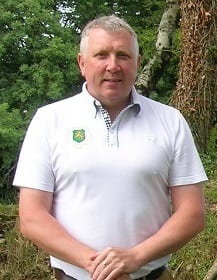 Castle Hume Golf Shop were the sponsor for last weekends open stroke  competition at an absolutely immaculate Clogher Valley, and it was in-form Billy Reynolds who was victorious with a brilliant 8 under par round nett 59.
Billy (affectionately known as "Horschel") set himself up for a fantastic round with 4 straight parrs and a birdie at the 5th hole. Two more parrs and two bogeys left him 1 over gross after 9 holes and in with a great chance of taking  prizemoney off Packie Duffy AGAIN!! A 2nd nine of 4 parrs and 5 bogeys was just enough to record his 4th win of the year with an 8 under parr gross 73  nett 59. Billy, having seen his handicap cut twice already this season, has been cut another two shots and will now play off 12, much to the enjoyment of Mr.Handicap Secretary and Company!! Popular "Sunday Funday Club's" Mervyn Farrell had to settle for 2nd but won the 22-28 handicap category with a brilliant 7 under parr nett 60 and will see his handicap cut from 28 to 27. Stan Montgomery finished 3rd with a nett 61 but won the 17-21 handicap category again, and is now in Malachy's sights!
Overall Winner  :  Billy Reynolds, net 59 (Handicap 0-16)
Handicap 17-21 Winner  :  Stan Montgomery, net 61
Handicap 22-28 Winner  :  Mervyn Farrell, net 60
Gross  :  Malachy Graham, Gross 76
Nearest Pin  :  Malachy Graham
Front 9  :  Mervyn McElwaine
Back 9  :  Eamon Rasdale
Longest Drive  :  Mervyn McElwaine
Ladies Winner  :  Henrietta Willis, Net 70